New backgrounds are here!! 10 amazing backgrounds from great atuhors on deviantart, customized specially just for Magicraft wordpress theme. This is second bucket of background ( here is first version ). You can download it here:

Thanks a lot to all of these autors for their greate works. Please visit their profiles and give them fav. 🙂
What are these backgrounds for?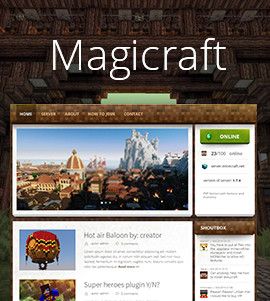 Well, it's simple answer. It's for our minecraft theme for wordpress called Magicraft. This theme are really good features like:
Online status
Easy to change skins
Changable logo and background
Mobile friendly
Seo optimalized
Customizer for custom colors and structure
and many more..
If you like it, please visit our buy page:
Ok this is our next background for your minecraft website… you can download it here:
Download backgrounds!
How to download these free backgrounds?
It's really simple, for these who don't know what it's pay by tweet, there is simple tutorial:
For download Backgrounds click on Pay with a tweet…
On page which will apear you can simply choose social site where you want to post.
This how you pay. only by Tweet or Facebook post, but it's very important. Every share are important for use
Now after posted your tweed or post you can click on the download button 🙂
Enjoy 🙂